It's one of the most popular pasttimes – everyone does it, usually once a week, and it costs big bucks. It saps a good chunk of our wages each month, and we really need them to survive – or do we? I am of course, talking about supermarkets and our complete reliance on them as a nation to be our food providers. From the early days of relying on either our own abilities to grow food ourselves and cook it (late 1800's), to buying from small, local co-operatives (pre-war) we now need supermarkets more than ever. One supermarket in the UK boasts a store in every single postcode barring one (now being developed) and in every £8 we spend in the UK, £1 is being spent in their shops, and as a consequence they now make billions not millions in profits. Though nowadays they are not looked upon as modern-day wonders, people are starting to see their true colours – as the nastier underbelly of consumerism, which as a nation we'd rather not look at. But why, despite this knowledge, do the public still flock to them in their thousands, daily, for their fix of factory-farmed chicken and sweat-shop-produced clothing? There is one very simple reason: the cost. Why pay £10 for a t-shirt which is organic, when you can buy one for £2? Same colour, same look but one is a fifth of the price. And in this sad world, money really is everything. We now buy more than we ever did, yet the money we pay year-on-year for that shopping is actually decreasing.
When I started becoming interested in green issues, it was more about hidden chemicals in products than the wider shopping-sphere at large. I shopped at supermarkets and enjoyed the consumer-driven life as before, I just bought ecologically-friendly items from healthfood shops rather than buying the supermarket equivalent. Interest spurred me on to find out more than just the basics of chemicals in cosmetics – what about chemicals in our food? My finds were again shocking, but not surprising in the slightest, and short of eating completely organically, what on earth could I do? I began making lists of vegetables which weren't heavily-sprayed with chemicals, I ate seasonally, and was a staunch vegetarian. It was when I started looking at the whole process holistically – from the farm the food was grown at, to the supermarkets and eventually the end-user – that I saw inherent flaws in every step. Farmers weren't being paid enough to take care of their land and livestock properly, the supermarkets were squeezing every last drop of profitability possible (with as many underhanded methods as possible…) and the consumers were making this happen by supplying the most important thing: demand. There would be no supermarkets at all if there was no demand for them. Supermarkets would close virtually overnight if no-one went to their shops for a week. But the likelihood of that happening are almost non-existant.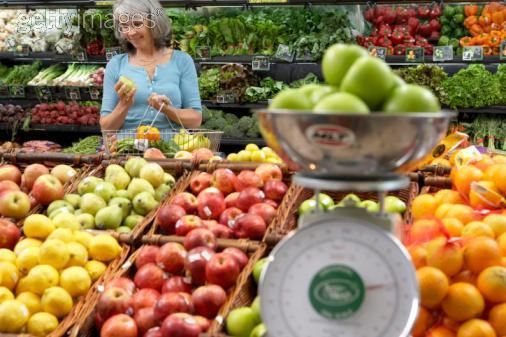 My friend who made the comment which triggered my Sanity Mechanisms post said that supermarkets by their nature would never be "green" or "compassionate", as big businesses (or at least businesses who were to succeed) weren't made big by being kind. It would be foolhardy to think that this wasn't true – business is ruthless and if you have a compassionate chink in your armour a competitor will exploit this. There is always a bad-guy somewhere. But as in the sanity mechanisms post before, it is the consumers' ultimate choice as to whether we continue down this route of "cheap is best" or whether we are willing to pay more to get an ethical product.
So with my eyes opened even further, I started looking at supermarkets themselves. If they wouldn't change their ethical stance, then I'd change mine – and therefore start making the changes that will be necessary for everyone to make if they really do want to make a difference. If you have or want to shop in a supermarket, your choices that you make whilst shopping control the demand aspect. If no one is buying battery-farmed chickens, the supermarkets will stop selling them. Try small things at first, always always always use your own bags-for-life (strong re-usable bags made of anything – jute, hemp, plastic or cotton) and reduce waste created. If you know you're not going to eat 4 heads of lettuce – for heavens' sake, STOP BUYING it!
When it comes to buying food (in supermarkets) we have a few basic guidelines that are adhered-to at all times. They are as follows:
We don't buy fruit or vegetables that can be grown in the UK but aren't – for instance, potatoes from Israel. There is no need for this.
We do not ever buy fruit or veg from a foreign country – it's UK or nothing. No Spanish strawberries in December or Peruvian asparagus in February. This also means an end to bananas and tropical fruits. The two exceptions to this rule are lemons and oranges. They both come from countries which are within the EU (typically Spain, Italy and France), are more than likely to be shipped in by sea rather than plane and pesticide use is small.
Source fair-trade and organic food where possible, but buying locally produced food should always trump this – trade is fairer than with a third-world country who are open to exploitation, less food miles (most of our seasonal veg came from 7 miles away!) and less pollution.
Learn about the supermarkets' individual ethical policies and shop accordingly – see below.
Avoid anything GM – not because it'll give you three heads, but because it has been shown to enhance resistance of bacteria to antibiotics, amongst many other things. It is really bad to mess with nature, this is no exception.
We don't buy any pre-prepared food. I cannot remember the last time we had a ready-meal (we don't have a microwave!), it must've been at least 5 years ago.
Eat seasonally – in Winter root vegetables, parsnips, carrots, cabbages, potatoes, onions and swedes are the way to go – in Summer let loose, eat yourself silly on strawberries (English of course), lettuces, tomatoes and peas. This is how our bodies were designed to work!
Be aware of which animals are naturally free-ranging and which is always intensively reared. Lamb is always free-ranging because it needs to build muscle and eat grass, pork on the other hand is kept in appalling conditions in darkened sheds, living in their own faeces and sometimes attacking each other out of boredom.
Stay away from American rice and corn, if it's not GM (most American corn is GM) it will definitely have been shipped a minimum of 4000 miles. There was afood scare about American GM rice a year ago, the EU has banned its use in many things now.
Avoid buying from countries whose political regime is cause for concern – such countries for us include China, Viet Nam, Israel and the US.
I will proceed the list by saying that although we shop in a supermarket, we only do so for a small number of items which are either ethically produced or local (dog food, 100% recycled toilet rolls, tinned tomatoes etc). For the last two years we've bought almost all of our meat and milk from our local farm-shop, which we've found to be not only cheaper than supermarkets in some cases, but the stuff they sell is of amazing quality. I've seen the cows and pigs myself. I know I also harp on about growing your own vegetables, but even making a dent in your supermarket shopping bill has to be a good thing. It is so easy to bung a few potatoes in a pot and cover with soil, even the newest gardeners can't fail to have a crop of yummy potatoes within a couple of months. Add some tomato plants, some courgettes, salad leaves, peas and beans – the easiest vegetables to grow – and you've got a variety of homegrown, organic vegetables to feed your family. It isn't hard, but it takes a willingness to do it.

When it comes to the ethics of individual supermarkets, a quick search online will yield results. Apart from recent scandals which usually make the headlines, dig a bit deeper and you can find some rather interesting stuff. One such Interesting Thing is the link between Lord Sainsbury (yes, of the same supermarket chain) and his interests in GM research. Although his supermarket chain refuse to sell anything with GM in it – and were one of the first to rebuke GM in a big way, he has big stakes in companies which are trying to work on some sort of "gene patent". Now I do not believe that GM is going to give us three heads (although if they thought it'd make money, they'd have a go…) but it has shown that the possibility for new strains of antibiotic-resistant genes to be created, possibly transferring to human beings. All we need is another MRSA or Clostridium difficile type outbreak in our hospitals – except this time it might be more potent and cause many more problems. That is why nature really shouldn't be meddled with – we are opening Pandora's boxes left, right and centre without giving due thought to the consequences. So Sainsbury's aren't on my list of "ok supermarkets", but they are much higher up the chain than… Asda and Tesco – Asda for being associated with Walmart, possibly the worst supermarket chains in the history of supermarket chains (they even made a film about it – with a really good website), and Tesco for being so profit-conscious that it won't do good for its industry, even though it has the power to.
There are good things in the pipeline though, going green isn't the hippy option anymore, and you're considered rather draconian or "backward" if you don't use energy-saving lightbulbs and ecologically-friendly options, which is a good thing. The un-friendly alternative should always be made as difficult to use as possible, which is why I'm all for taxing of 4×4's and stopping selling traditional lightbulbs etc. It surprised me no end that shops such as New Look and Evans are both (excuse the pun) cottoning-on to the Organic ideal, and whilst most of their clothing isn't organic and does come from sweat-shops (but I'm guessing a Nike sweatshop is worse than an Evans sweatshop, although I could be wrong…) it's a huge step forward to see them stocking this stuff. It means that they know demand is there, and will hopefully start to integrate the organic fibres into their normal lines. Plus looking at the stuff, I prefer the organic designs.
Many are put off by the prices that they perceive farmshops to charge – and this is the bit that gets me the most. I have met people who are completely unwilling to spend any more than they absolutely have to, to get the food they want. It's not about where it comes from, or what suffering the food or the planet has had to go through to get it – as long as it's there and it's cheap. The only way we're going to make a difference to those people who ignore morals and ethics in persuit of price is to make farmshops and growing-your-own easier and more publicised than the supermarkets. The price they charge is a fair one – and it's the price we should pay for our food.
But my words here are very much preaching to the converted – those who are educated enough to read blogs, are usually savvy in their shopping and pretty eco-friendly, it's the people who currently shop at Tesco and Asda who need the kick up their backsides – and short of mounting some sort of publicity-grabbing protest antic, I'm not sure there's much I can do outside of my words… Which leads me on to ask you all a question – what do you think I can do to get the message across to the people of the world to start being responsible in their actions? Any ideas?
— images courtesy of BBC news and Getty Images.